Tomi here. Has your marriage gone wayward?  Is your nickname Alimony Jim? Does the word "estranged" describe how you look? If not, then hooray. You've made it through. But for those just going through a breakup please keep reading.
Let's face it divorce is sucky and going through one is a pain in the behind, in the heart, and in the wallet.
Your life has been turned upside down and it's enough to give you a head rush.
Sadly, it's all part of it.
But, through humor you can get through just about anything—including the heartaches of divorce.
This I know.

I was divorced sixteen years ago. It was ugly. I had just finished my master's degree in Accountancy which was grueling on its own and in hindsight was a cakewalk compared to what came next. You see, I had two small children (a 22 month old, and a four and half year old) when I discovered my husband was having an affair with a woman where I worked.
This is where I insert a pause for all the jaws that just dropped. Mine included! I know. It should be a crime.
I felt all the normal things a person would feel: betrayed, devastated, humiliated, jealous, overwhelmed, and of course depressed. I think I was even a bit traumatized because there are parts of if I have no recollection of. My dreams were shattered. I couldn't sleep at night, I had anxiety attacks and well, the list goes on and on. So I get it. I get what you are going through my dear friends.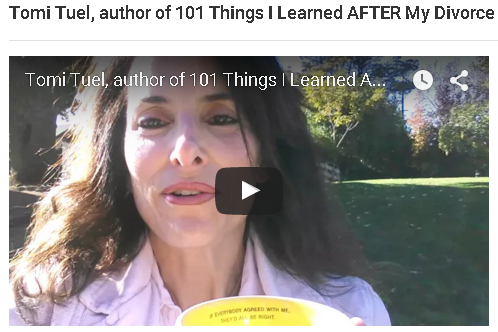 I will get you through this.
Life has thrown you a curve ball and this is the class that no one teaches you. I'll teach you the covert operations of the battlefield!
This uplifting workshop will ease you into what to expect after your divorce and uses humor to guide you through the steps of divorce recovery.
We'll take a lighthearted approach from divorce avoidance, to divorce recovery and self-rediscovery. We will talk about being rejuvenated, getting to indifference, striving for the ideal divorce, the hardest part about getting divorced, and the benefits of humor in the process.
Whether you're going through a divorce or just want to avoid one, this workshop is designed to help you find your way through the ups and downs of separation and divorce. It will guide you on what to expect when you are divorcing.
My goal is to help you find your way back to happy and go from survive to thrive! I hope to see you there.
Tomi